School Announcements
Nursery schools face losing up to 30% of their budget. See the whole story here Nursery School cuts
We have few places left for 2, 3 and 4 years old. Call on 02086923653 and speak to Kim.
Bank/Cover Staff needed. Please click here for more info
GDPR/Date Protection Privacy notices have been updated. Please click here for our Privacy notice.
Packed lunch option available! Please click here for more info.
Christmas Celebrations 2019. Click here for more info.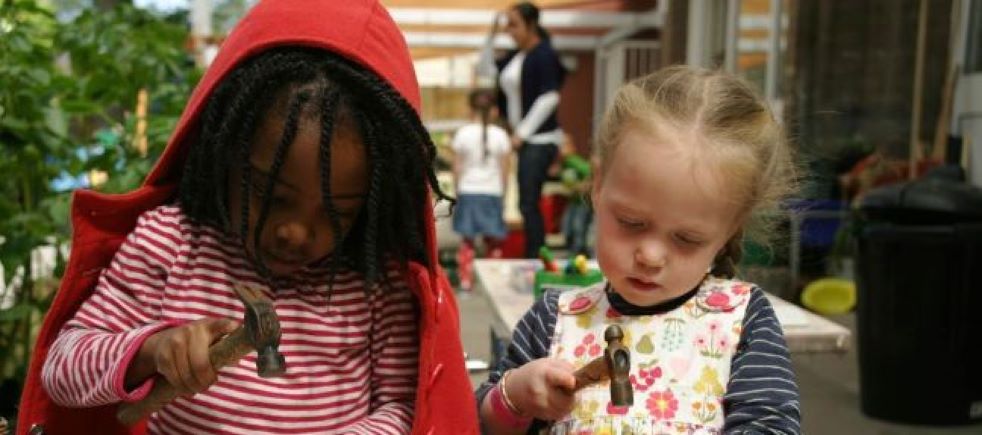 Welcome to Clyde Nursery School
TES Awards 2018: Shortlisted for the Best Early Years Setting in UK
Where families and children learn together
Clyde is an outstanding Nursery school and Children's Centre in Deptford, serving a multicultural and diverse area.
It offers children and their families a friendly and inclusive environment in which children are free to explore, learn and grow into independent learners.
Our philosophy is that play is the natural way for children to learn about the environment that surrounds them.
We offer a varied, balanced and rich curriculum which enable children to develop the skills they need for life-long learning and achievement.
Message for the day
We believe that children learn with their bodies and part of the curriculum takes place in our beautiful garden, which encourages the children to be active, and generates enthusiasm for learning new skills and interests. With us they gain firm foundations for their future learning and development. Rated by Ofsted in 2013 and 2017 as outstanding…. "Clyde nursery school is outstanding." Please
click the here to read the full report.
We are a small, warm and welcoming school and Children's Centre. We provide a safe, stimulating and inclusive learning environment for your child full of challenging learning opportunities.
Cathryn Kinsey
Head Teacher - Head of Centre
If you would like to talk to me please call on 02086923653 or email admin@clyde.Lewisham.sch.uk
Parent View gives you the chance to tell Ofsted what you think about our school, from the quality of teaching to dealing with bullying and poor behaviour. The survey can be completed at any time; you don't have to wait until our school is being inspected. OFSTED will use the information you provide when making decisions about which schools to inspect and when. Click https://parentview.ofsted.gov.uk/ to register and complete a survey to help our school improve. This survey is not designed to receive complaints about our school. If you wish to make a complaint or have a serious concern about the school, you can find more information under the Policies section.
If you would like a paper version of the school's website, please ask a member of staff at Reception.